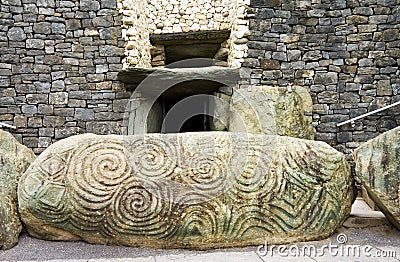 After the longest time I've been away from home since I turned eighteen, I return to the past month. Unlike my first stint abroad, a summer in Yorkshire the season that
Unknown Pleasures
by a local band just down the road and over the hills and moors in Manchester, appeared, this time, with Layne, I found myself not putting down any recollections in a journal. Rather, I chose to let the time pass by.
Recollected, lots may vanish. But as those who know me too well have advised me, this year, after much pressure, I need to get out of my head a while, and not to chase after what others think of me.
So, a more informal reconstruction of my itinerary commences. It was hurried as I left. My classes had to be inched up as the weekend previous found me in Rapid City, SD, giving a paper on
Sons of Anarchy
's Irish themes in its third season. I had to grade papers and presentations coming in online, and I spent more of that Irish Studies conference than I'd bargained for holed up in my room, working. Still, I got to see Mt. Rushmore and Deadwood again in a quiet space, and in very dry air.
Cold at night, but warm by day, so I liked walking around the red brick, very to me
Babbitt
-1920s era downtown of sprawling South Dakota's western hub. Laid out in a grid, the place felt homey. The Hotel Alex Johnson, visited by seven presidents, is haunted. My room 305, more of a maid's than a guest's room (that conference rate), and the city's presidential statues in bronze (not that bad, I admit) gave me the appropriately frontier feel. Looking for provender near the prairie, the offerings for one who eats neither stag nor steak, bison nor beast, made me dine out on a lot of grilled cheese, again.
That next week, I combined my classes' final presentations in class two nights in a row, and by the hour I was to leave before dawn the following morning for a flight from LAX to Newark, I was weary. The rental car hassle and the snagged turnpikes from there to upstate New York slowed us down. Yet, returning to the place where we've stayed in Upper Red Hook was relaxing. Our son now lives in nearby Tivoli, in a standard sub-standard off-campus house. But I managed to finish grading in some downtime as we joined Niall's Bard College for its Parents' Weekend. Although he's not a frosh but a junior, I welcomed any chance to see his bucolic campus in splendid autumn. We took him and his girlfriend to
Olana
, the Frederic Church home that artist of the Hudson Valley built for his views over hundreds of riverside acreage. Its Orientalist touches delighted us, and I proved the very last on the last tour of the season to depart its doors. Although none of the Irish immigrants who worked for the Church family renewed their contracts after their domestic servitude brought them up the river from the city, and although I wondered how they lived and what their rooms were like compared to the sumptuous ones of that privileged, talented artist and his brood, sights were worthwhile; sunset on the sparkling water was memorable. Olana invites hyperbole, and it rewards it.
We also as parents sat in at mini-classes some professors taught at Bard. I opted for Medieval Death as my diss. was on purgatory, and to my surprise the class was full. In an hour, she skillfully moved past a great amount of material on the art and the assumptions of memorializing the departed and instructing the faithful, and I was impressed. I hope Niall as an art history major signs up for that professor's course on altarpieces. I envied those able to study such as what I loved in such depth.
The next course, Layne and I had agreed on; the first hour she was at a Science of Forgetting psychology lecture I figured she'd prefer, and she agreed without dissent. "The Sixties" proved to be not about a broad but narrow topic, the radical theater of Julian Beck and Judith Molina in NYC, but the young instructor kept us alert and she asked the right questions about how enduring (or not) such an attempt to engage and confront the audience remained, decades later. Some in the audience looked like grandparents rather than parents of students, and vaguely (drugs?) recalled seeing plays like that.
We did not participate in the other events, as we'd been there for those before, but Layne lobbied for us all to attend the mini-Disney Hall, also designed by Frank Gehry, to hear the campus president, Leon Botstein, conduct a student orchestra. Like many in the audience, we lasted through Beethoven and the Russian who followed, but at intermission, we bailed, quailing after 90 minutes at least another hour of another Russian. Niall had worked in the parking lot at that Fisher Center last summer as one of his three jobs. He regaled his pals who still patrolled its domain with high-five's.
Speaking of such, town meets gown often. In Tivoli, where Peter Dinklage, Liv Tyler, and other famous people I forgot live at least off-screen, we saw at a church converted into coffeehouse by the woman who owns it appears not only our son's house but half the village, Daniel Mendelson. His name and face may be less familiar to many, sadly. But Layne and I, alerted to this classics professor and
New Yorker/NYTRB
critic, sidled up shyly to meet him and thank him. He accepted our greeting nicely, and his green eyes (he's exactly my age, but shaven sleekly bald) were both intense and warm, like my cat Gary's, in an intelligent, warm, yet penetrating gaze. It opened up and yet it held back in reserve. I told him that I admired his phrase "do you define yourself by the thing that sets you apart?" and shared it in my own teaching. It came from his
memorable essay
about Mary Renault, with whom he corresponded as a teen coming to terms with his sexuality on Long Island, just as I too turned an adolescent over near the other coast. His life and mine: so different, yet here we were, for a moment.
I mused on his career, and what he must have learned from so many. I thought of the intellectuals and creative classes, either from money or now having bought into it, and their lifestyle, half-small town Hudson Valley, half-Manhattan. Niall's classmates sometimes came from similar, elegant, backgrounds. They contrasted with his, but there he was too, among also a diverse mix of friends.
This idyll, frequented by a endless flow of city-dwellers who either weekend up here or flee to here, shows itself in Hudson. A local Halloween parade if the week before passed us as we walked town streets, half gentrified, half slum. Definite class divide. We saw an actress who even I recognized at the pizza place, and she stars typically in a series set in Silverlake, among other such folk, half of whom like her again must "divide their time between" Hollywood adjacent and somewhere in NYC.
Off to NYC ourselves, if only to drop off the rental car, we made it with no fuel to spare, justifying our purchase of a full tank. I think we had according to the dashboard gauge nothing but fumes left. We had landed at Newark where Layne had to battle the rental car company for a late fee, which after all we did not wind up paying, as we made it within the limit with fifteen minutes to spare. And we sat in a lounge, where I dared a shower, only to find the faucet broken and the shower icy. I made up for it partially by purloining the first of a few tea bags, and by staying beyond our two hour limit.
The flight from Kennedy to Dublin on Aer Lingus fit that perpetually troubled airline, where it's like a giant bus, as our ex-pat friend notes, but the accents do get you in the mood, as well as the mediocre food and crap t.v. There are invariably about three films I see in a theater each year, and when I fly, they all seem to be the options for viewing, along with a bloated Pixar 3-D kids extravaganza, or a Disney tween franchise. I had to settle for
Ant-Man
, which like too many films of its ilk played into the franchise and tie-ins to other superheroes, so that it lacked much if any clout. I could barely care.
One stewardess about my age, blonde dye job, sported a giant black eye. Another, who served us herded into coach, was kind. She gave us extra rolls and trifle after our vegetarian meals were never prepared--a situation that would repeat on another, far longer, flight, on our return. No extras then.
I never sleep on an airline, but for the first time it was not an 11-hour flight to Dublin but one half that. A sign of a reviving economy may be the restoration of non-stops from LAX, but I don't see myself going back soon to the motherland, although still, parts remain that I have not yet traveled.
Same for this trip, however, so we wound up landing in Dublin and for the first time I saw the airport not as the "black hole" of the past, but disembarked into a sleek new facility for international flights. Off in the rental, and an affable and informative tutorial on directions from the Dan Dooley driver, and after a shaky start by a weary Layne, we made it to Drogheda, a few hundred yards directly away from our friends' house, even if we had to go a long way about it, in the back of a tract home in a separate, clean, tidy B+B set up. So, it was a snap to drive over to see our friends. For reasons of security, as the North is never far away, I will not name them but I assure you our visit went well.
Their son and daughter are blooming, one with the teenage bookishness and hidden changes of her age, the other with a love of not his father's Liverpool FC but the rival Man U., and gaming to boot. They share their parents' intellectual range and sharp wit (I read in some travel guide over there how the Irish "have a typically dark sense of humour") and our time out with them was a hit. Even if we all discussed the flaws of the movie we saw,
Crimson Peak
, over dinner, we liked our camaraderie. Knowing them and their mother even before she met their father, I can attest to their warmth, and their bold passion for justice, qualities I am sure are passed along to their Irish-speaking children.
No visit to that old city on the Boyne is complete without the sight of St. Oliver Plunkett's mummified head in the cathedral, and the commemoration of the massacre that that city endured at the hands of Cromwell's army. The streets were bustling, some shops alive, and the sounds of varied accents attested to a changing Ireland. One in six Irish have left seeking better work elsewhere, while one in five residents is from another country, usually not England, these warping, globalized decades. What a new Ireland will look like can be seen in its children, and their variety increasingly resembles that across the North, not of Ireland this time but of the world, as immigrants keep moving up.
Our hostess missed her native O.C., and was delighted by the arrival of Starbucks. We shopped in a small mall, indoors wisely given the weather on the Irish Sea nearby, but the hilly sidewalks of the older shops were also filled with locals. although quite a few storefronts were closed or derelict. Our host, despite or because he was an erudite atheist, figured politics were useless compared to helping the poor himself. So he volunteered at the local St. Vincent de Paul. On short notice, I was recruited to drive him, for the "Vincent Men" as once they were called go in pairs for security and morality, to the flat of a woman who was in need of care. Many fall between the State and charity, and need a helping hand. Drogheda is coming back slowly, but despite elegant restaurants and a boutique hotel. it's clear that many on its quaint city center streets need more than those who frequent its charm.
That made me wonder again how so many of the Poles, Nigerians, and Chinese were making a living. That shift is very evident, as I've probably lost count of the times I've seen Ireland. A dozen over the past three dozen years, the first glimpse that same summer I came of age? The fate of the language I struggle with to learn as an adult, and that in which the children of our hosts are educated within, concern me greatly, but I do hope that whatever their origin, the new generation likes learning Irish.
Our last glimpse of Drogheda was dropping off our host to buy a new washer, as we feared our added demands on it with dirty laundry had done it in. The big-box stores might have different logos, but the look and feel was no different than where his wife had grown up not far from where I now teach.
We then left our friends to visit other friends, as we moved into the past at
Newgrange
in the meanwhile. I drove in/from Drogheda on, so I got the hang of the roundabouts, as they give you no choice. Two days before Samhain, the tour was full, and I wondered if that conjunction played its part. Around us, we heard French and Italian, and I suppose it's always popular to see this ancient site. We could see the little mound from the museum the other side of the Boyne's bank, far off as the moon rose. While I'd been beguiled into expecting a full-size replica of the site in the "interpretive centre," all I got was a mini-mock-up of the passage. Still, I learned from the exhibits, and I was intrigued by the
possibility
that its pre-Celtic
spiral
makers might have entered
altered states
of mind.
The museum was informative although the staff was cranky. I found the centre's charted estimate sobering in its details that revealed nobody exhumed lasted past the age of fifty. But their bodies might be left as those of Tibetans or Parsees, atop a structure, returned to the sky as bird-feed, before the bones that give us evidence of my ancestors' lifespan were buried for us to find 5000 years later.