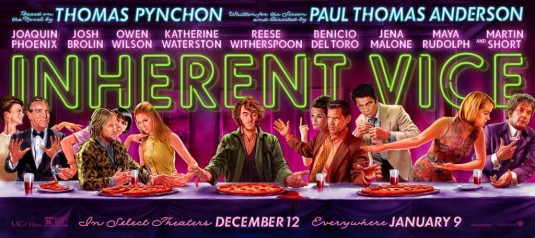 Faoi deireanach, bím ag breathnaigh scannáin éagsúlaí. Ag imeall Coillte Cuillean, tá chairde áirithe againn a fháil cópeannaí vóta a chaitheamh ar sna cuilleachtaí ann. Mar sin, feic ár teaghlach cúpla chomh maith.
Measaim de "Inherent Vice" agus "Mr. Turner" go minic ar feadh an tsamraidh seo caite. Tá beirt 150 nóiméad, ach ní raibh dhá céann níos fadaí orm, go fírinne. Chonaic mé an priomh ar bhaile agus an dara ar an picturlann ar na Nollag.
Sular, chuaigh mé a feiceáil "Gone Girl" agus "Calvary" ina picturlann. Is maith liom an da. Bhí siad dea-scríobh ann.
Bhreatnaigh mé "A Most Violent Year" agus "Whiplash" fós. Tá siad scéaltaí in Nua-Eabhrac. Shíl mé go raibh réasunta mór araon.
Féach Leon agus mise "Magnolia" ó 1999 anocht. Tá scéalta ina Gleann in aice leis an Cathair na hÁingeal. Mheas mé ní raibh go réidh, mar sin féin.
Ar ndóigh, téigh i bhfeabhas stiúrthóir. Rinne Paul Thomas Anderson "There Will Be Blood" agus "The Master" seo chugainn. Le déanaí, chríochnaigh sé "Inherent Vice" riamh cúig bliana ag obair.
Films in 2014
Recently, I have watched various films. Around Hollywood, certain friends of ours get copies to vote on in the guilds. Therefore, our family sees a few as well.
I have been thinking about "Inherent Vice" and "Mr. Turner" often during this past week. The pair are 150 minutes, but the two were not long to me, truthfully. I saw the first at home and the second at a theater on Christmas Day.
Before, I went to see "Gone Girl" and "Calvary" in the theater. I liked both. They were well-written.
I watched "A Most Violent Year" and "Whiplash" too. They are stories in New York City. I thought they were both so-so.
Leo and I saw "Magnolia" from 1999 last night. The story is in the Valley near Los Angeles. I felt it was not smooth, nevertheless.
Of course, a director improves. Paul Thomas Anderson made "There Will Be Blood" agus "The Master" next. Recently, he finished "Inherent Vice" after five years of work.